Bushnell Outdoor Products has just introduced the NEO+ Golf GPS Watch, an easy-to-use GPS rangefinder, with instant measurements for golfers in a simple, lightweight form-factor.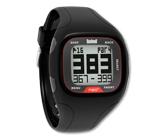 Simple & Comfortable:  According to the company, the lightweight watch is simple to operate and comfortable to wear, giving golfer's accurate front/back/center and shot distance measurements on 25,000 preloaded courses with no membership fees, more than has have ever been made available via GPS.
Excellent Battery Life:  While other GPS watch devices run out of battery after just one round, the Bushnell NEO+ Golf GPS Watch allows golfers to play three rounds or over 14 hours without needing a recharge. Additionally, when the product is functioning solely in watch mode, the battery can last over 12 months.
The NEO+ Golf GPS Watch is capable of instantly recognizing courses and has an auto hole advance feature which automatically changes from one hole to the next. This great feature means that the golfer does not have to push another button for the rest of the round.
It will be available at Bushnell retailers nationwide beginning in May, with a retail price of $199.95.
>> We will see if we can get a hold of one of these to experience for ourselves how "lightweight" it truly is.<<
###