Earlier this year Adams Golf acquired Yes! Golf in a bankruptcy auction. They purchased it for $1.5 million with the hope to integrate the company seamlessly into their operations in Texas. Yes! Golf was best known for their patented putter technology designs, which included the C-Groove putters. Trying to break into the putter market for several years, Adams Golf saw this acquisition as the perfect opportunity to fix their lacking presence in the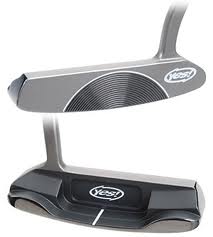 putter market. With the inclusion of Yes! Golf putters Adams was able to make a significant leap into the putter market with a respected brand name and a vital technology platform. Founded in 1996 by famed European putting doctor Harold Swash. The brand become internationally known when Retief Goosen won his first US Open with their Tracy model putter. The brand name carries with it a knowledge and understanding of putter technology and design.
This Monday Adams Golf announced that Yes! Golf will be relaunched and include eight new models for the brand.
Adams wasted no time since they acquired the company in January and quickly turned it around to be ready for it's re-launch into the retail market. One of the new models in this re-launched line is called the Christiana, crafted out of 304 stainless steel and completed with the iconic C-Groove design. The face-balanced club was based on of the popular Yes! Tracy putter. The C-Groove is design was created with precise angles that make a C shape, and where it received its name. These angles will grip the ball at impact, which allow it to start rolling quicker and truer towards the hole. The Christina putter is finished with a double-bend shaft and a sandblasted finish. Expect Yes! to release at least 8 new models for next year's PGA Merchandise Show in January… Adams Golf is wasting no time establishing a foothold in the putter market.