This week, Bridgestone Golf announced it is partnering with Michelob ULTRA for the "Golfer's Ultimate 6-Pack" promotion which is timed for Father's Day. , The Golfer's Ultimate 6-Pack is a limited-edition package which features five Michelob ULTRA Slimline cans and a three-ball sleeve of Bridgestone's award-winning e6 golf balls (where legal).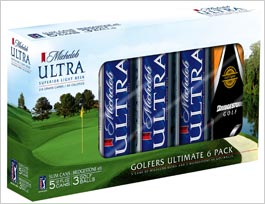 The Golfer's Ultimate 6-Pack will be released on May 23 and is the first retail package to combine Michelob ULTRA with Bridgestone e6 golf balls at the point of purchase. The promotion includes nearly 500,000 sleeves of e6 balls, making this one of the largest golf ball samplings in recent history.
The e6 features three-piece Surlyn cover construction which provides the ability to reduce sidespin for increased accuracy and longer distance. According to the company's press announcement, the new e6 remains the lowest compression multi-layer ball on the market – perfect for moderate swing speed players looking to limit slices and hooks – and features Bridgestone's new Dual Dimple Technology for improved distance performance.
For more information on the Golfer's Ultimate 6-Pack and Bridgestone's entire line up of balls, visit www.bridgestonegolf.com.
###