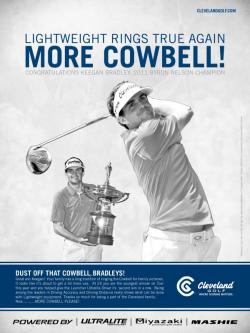 Over the weekend, Cleveland® Golf/Srixon's rookie staffer Keegan Bradley won the 2011 HP Byron Nelson Championship.  Bradley, a PGA TOUR rookie and nephew of LPGA legend Pat Bradley, got his first professional win nine just days before his 25th birthday.  The week before, David Toms took first in the Crown Plaza Invitational — winning on the PGA TOUR for the first time since 2006.  To Todd Harman, president of Cleveland Golf/Srixon® -U.S.A, these victories are excellent endorsements of the company's lightweight products.
"When two distinctly different types of players leverage our Right-Weight Fitting Technology to earn back-to-back victories, we know we're onto something special," he said.
The timing is perfect too as Cleveland Golf/Srixon has just announced significant investments toward bolstering their club fitting initiatives for 2011. Chuck Thiry, brand manager for Cleveland Golf, said "Our 2011 products push the limits for weight reduction and distance. We have invested heavily in our fitting resources to prove to our customers that Cleveland Golf can improve their game and lower their scores. We guarantee it."
Number one on their "New for 2011" list is the Right Weight Guarantee.  This year's Ultralite drivers come in three different weights so every player can find his right weight driver – regardless of swing type or performance preference. The Right Weight Guarantee offers consumers a 60-day guarantee on all driver sales enabling golfers to exchange their driver free of charge for another weight, flex or loft.
Other initiatives include:
A massive capital investment in the most sophisticated and portable launch monitors in the market.
The most comprehensive custom shaft offering ever, featuring the latest custom graphite and steel shafts from golf's most trusted shaft brands.
Expanding their fleet of fitting vans traveling nationally. Each van is driven by an expert fitting professional with tools to guarantee the best fit for golfers of all levels. The Cleveland Golf/Srixon fitting fleet is powered by Trackman and GC2 launch monitors, ACTIONFIT Lie Boards and SCUBA club bending technology.
Introduction of the SCUBA (Self-Contained Universal Bending Apparatus) to go along with its tour inspired GAP fitting philosophy. With the SCUBA, irons and wedges can be adjusted to the loft and lie angles at the range while fitting a player. As a result, the player can walk away from a fitting session with a completely customized set of clubs (perfect lie angles and distance gaps) delivered the same day.
You can find the complete list of initiatives here.
###