Titleist just introduced the next generation of its groundbreaking Advanced Performance irons: The 712 Series of their Titleist AP1 and AP2 irons.   Both models are multi-material, dual cavity irons that provide modern ball flight and forgiveness with the traditional looks, feel and sound that serious golfers have come to expect from Titleist irons.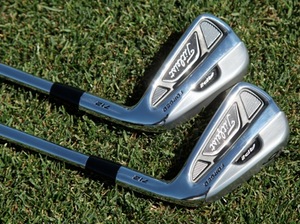 NEW ADVANCES IN THE 712 AP IRONS: The improvements incorporated into the new AP irons came about as the result of continued research that indicated that serious golfers were looking for improvements in three main areas.
First, most players wanted even greater refinements to the clubhead's profile. Both the new AP1 and AP2 models feature sleeker contours that result in a better address position.
Players also expressed a desire for more forgiveness, to get more out of their miss-hits, or said another way, better distance control.  Both the new AP1 and AP2 have been improved with internal weighting that utilizes higher density tungsten in order to distribute mass more efficiently which increases the moment-of-inertia (MOI) without changing the CG location or the blade length. The higher MOI provides more consistent ballspeed across the clubface and better distance control. Better distance control leads to more scoring opportunities and is the key to good iron play.
The third wish-list item that research uncovered was that players wanted more forgiveness without any loss of workability or shot control. Traditionally it has been thought that forgiveness and workability were mutually exclusive. The new AP irons prove that they are not.
Available beginning November 18, the 712 AP1 irons will  have a suggested retail price of $112 per club/steel, and $135 per club/graphite. The 712 AP2 irons  will have a suggested retail price of $154 per club/steel and $175 per club/graphite.  You can learn more about Titleist irons here.
###