This doesn't make a lot of sense. Conceptually, releasing a golf swing helper app just before The Masters, as seasonal golfers start heading to the links to get their game on, is the right idea. But a "Tiger Woods: My Swing" iPhone app? He hasn't actually been consistent over the last year. Most consider his swing a work in process.

In a New York Times story, Woods was quoted saying," "I have always enjoyed helping people learn how to play golf. Everything about this app is based on how I practice. To be able to do something like this, which wasn't possible 10 or 15 years ago, is a win-win for everyone."
I'll admit that I learned course management from Tiger Woods on my Playstation.
The Swing's the Thing: Among the application's features is the ability to capture one's swing online and evaluate it over time in a side-by-side comparison to Woods's swing. In the role of virtual coach, Woods also offers analysis, updates, how-to demonstrations and personal tips.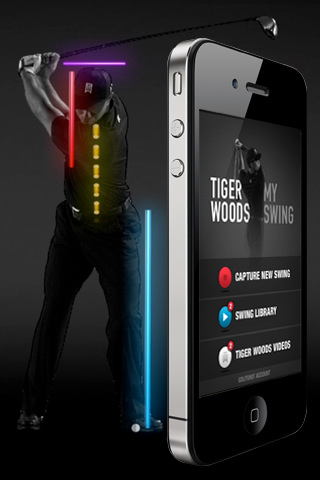 Here are some highlights of the app, which was created by Shotzoom Software:
Enhanced video capture
Side-by-side swing comparison with Tiger Woods
Advanced swing analysis and how-to demonstrated by Woods
Swing comparisons, sharing and feedback tools tied to friends and community members
Exclusive updates from Tiger and his life on Tour**
**Might be TMI (as in too much information)
High quality video of each club from both Face On and Down the Line angles
"How-to" video directly from Tiger covering swing analysis
Time delay to allow for self-recording**
** This is an interesting concept. Just curious how you prop the iPhone to grab the swing. There must be tips for that.
Analyze:
·Overlay "Tiger Lines" that demonstrate proper technique
Compare your swing side-by-side with Tiger, a friend or one of your own
Plus, there's an for saving your videos online in a free personal profile at Golfshot.com
The "Tiger Woods: My Swing" app is a "mere" $9.99. Considering the price of other golf aid products, that's actually not bad. But relevant to other iPhone apps, it is pricey. The proceeds of this app benefit the Tiger Woods Foundation.
"From the funds raised we can continue to give many more young people a shot at college," said Tiger.
Might be worth a shot.
###