On the other coast, the ShopRite LPGA Classic will be taking place .Friday-Sunday on the Bay Course at Seaview – A Dolce Resort, in Galloway Township, New Jersey.  In this tournament, Paula Creamer will be giving her surgically repaired thumb a try-out.  She had her surgery on March 31.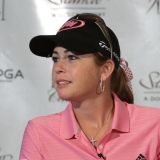 In an Atlantic City Press story, Creamer remarked, "It won't be completely healed for quite a long time.  It's a progression. I have to work through it. It's been a roller-coaster ride, but right now we're heading in the right direction."
You may recall that the thumb issue arose during the Honda PTT LPGA tournament in Thailand back in February.  After her tee shot on the 16th hole of the first round, she felt it "pop or tear."
She said "the only thing that was going through my head was, 'Oh, my gosh. Am I ever going to be able to play golf (again)?' "
Playing this weekend is a big step.
——

###