Developer and reality TV personality Donald Trump has agreed to buy the Doral Golf Resort & Spa for $170 million. The sale includes four of the resort's five championship golf courses:
The TPC Blue Monster at Doral
The Gold Course
The Red Course
The McLean Course
The Great White course is not part of the deal.
The Blue Monster is the most well-known of the resort's courses. It played host to the Doral Open on the PGA Tour from 1962 to 2006. Since 2007 the WGC-Cadillac Championship has made its home at the Blue Monster after having previously been played at various courses around the world. In 2009, the Blue Monster joined the PGA Tour's Tournament Players Club network of courses and rebranded as the TPC Blue Monster at Doral.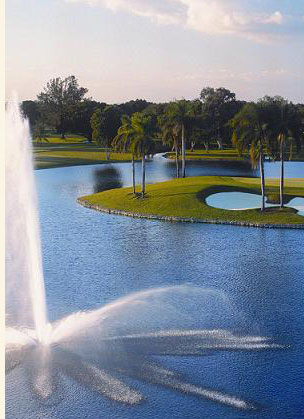 A source with knowledge of the plans said the Trump Organization will invest at least $150 million in upgrades to the nearly 50-year-old hotel, which went into bankruptcy protection earlier this year.
Hedge fund Paulson & Co. and Winthrop Realty Trust foreclosed on five resorts, including Doral, in January, and put them into Chapter 11 bankruptcy in February.
The agreement with Trump will be filed with the U.S. Bankruptcy Court in New York next week and there still will be an auction for the Doral resort to seek better offers. There aren't any other bidders so far, according to Winthrop CEO Michael Ashner.
###
Source: The Palm Beach Post