Have  you ever found yourself off the fairway in just enough rough to truly muck with the clubhead?  I'm not talking about literal muck.  I'm talking about the stuff that seems to grab the club and keep its face open as you address the ball.  It is bad enough to be off the fairway to begin with.  But having your subsequent shot move further to the right is downright cruel — especially if that right puts you into someone else's fairway.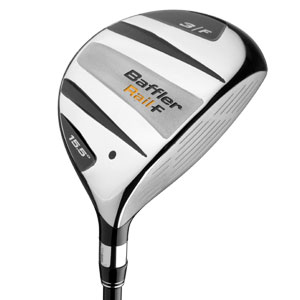 That is why I am here today singing the praises of Cobra for their Baffler Rail fairway and hybrid clubs.  I added a 3 Fairway and a 4 Hybrid to my bag for the last two rounds I played and was truly amazed at the difference.  I'm usually skeptical of the marketing speak of golf equipment manufacturers.  But this time, I have to admit, the club worked as promoted:
Cobra's Baffler Rail Fairway features a sleek-looking, 17-4 steel clubhead that has a thin, high-strength 465 maraging steel clubface designed to increase ball speed and distance. The elongated clubface and low-profile head result in a low, deep center of gravity – to help golfers launch the ball with ease – and a high Moment of Inertia for maximum forgiveness. The new four-way rail sole is designed to help the club move effortlessly through turf – to provide more consistent ball contact and improved control. The Baffler Rail Fairway features a premium, high-performance Fujikura Motore shaft for optimum distance and control.

"Golfers struggle with hitting traditional fairway woods, so we made the Baffler Fairway more like the Baffler Hybrid in terms of versatility and forgiveness, which makes hitting fairway woods a lot more fun."
The key words to pay attention to here are "maximum forgiveness" and "a lot more fun."  I wholeheartedly agree.  The ball just sprung off the clubface and went where I intended.  Plus I got a nice lift.  Very cool!
Here's are the key points of the Women's Baffler Rail Hybrid :
Innovative Rail Sole:  A four-way rail sole reduces the area of the club that comes in contact with the ground, resulting in improved turf interaction and maximum forgiveness.
9 Point Face Technology:  Incorporated across the clubface, these create an expanded Sweet Zone that promotes more consistent distance and forgiveness.
High-Strength Face Insert (Utility):  A thin, lightweight maraging steel face allows for 10% of the weight to be strategically repositioned low and back, resulting in faster ball speed and improved launch characteristics.
Along with the above, the Baffler Rail fairway woods feature a unique oversize head design and a very shallow face result in an extremely forgiving fairway wood that launches the ball with ease.
For women, these clubs (roughly  $169 for fairway wood and $149 for the hybrid) are well worth the investment.  Guys should give them a test drive too.  Take advantage of the playability guarantee a lot of retailers offer and get them out on the course.  See (and feel) for yourself.  To me, the Rail technology is a true game changer.
Here's a video clip shot during the recent Golf Expo at Haggin Oaks where Charlie Hazzard of Cobra Puma explains the rails.
###