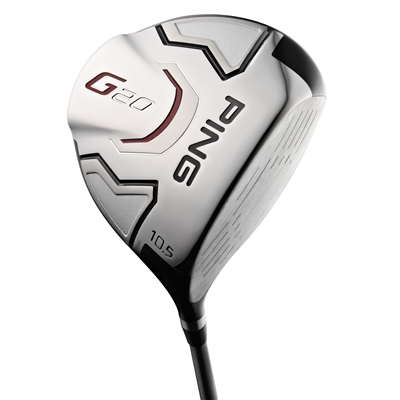 Ping has long had a soft spot in my heart. From my early days of working in the bakeshop back in the 1990's, I knew that Ping clubs were the real deal. I'd often grab one of the latest drivers to hit the market, head out to the range and give them a good drubbing. Ping's always setup nicely for me, seemed easy to hit… and… for some reason I was always able to pound my drives over the river adjacent to the course (not all drivers met this strict challenge). With those fond thoughts in mind, today we're taking a quick look at the Ping G20 Driver, winner of the 2012 Hot List Gold accreditation from Golf Digest.
The G20 is made of a low-density titanium. The weight saved in putting together the clubhead is repositioned within to give you a lower centre of gravity (CG). In the end, this give you a MUCH more stable club face through impact, making for longer and straighter drives (that is, unless you're someone like Bubba Watson that likes to hit 50 yard cuts and draws off the tee!).
The clubhead itself comes in at the maximum 460cc's. At address, the G20 inspires confidence and power, much like most offerings from Ping these days. The shape of the clubbed was also designed with aerodynamics in mind. Ping says the design will reduce drag, and therefore increase your clubhead speed at impact.
As far as specs go, the G20 is available in lofts of 8.5*, 9.5*, 10.5* and 12*. All stock drivers come at a standard length of 45.75″, a head weight of 204 grams and a D3 swing weight.
If you're interested in picking up the G20 (or anything from Ping for that matter), I highly suggest you point yourself towards Ping's Web-Fit custom fitting tool. It will ask you a series of questions, and build clubs for you that fit your game to a… tee.
For more information on the G20, visit Ping.com.