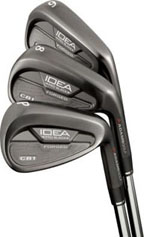 In a new arrival from the folks at Adams Golf, the Idea Pro Black CB1 Irons are now available. The irons are said to be for the lower-handicap golfer, and feature tour-styled forged carbon steel heads. Each iron features a nickel-chrome plated and black physical vapor deposition (PVD) finish. Kind of reminds me of Cleveland's CG1 'Black Pearl' irons. The Pro Black CB1's are more of a cavity, where as the CG1's were a full out blade, but if you know clubs, you know what I'm talking about.
The Idea Pro Black CB1's are made from 8620 carbon steel for control, feedback and performance. Each head is precision milled, and the grooves do comply with the 2010 USGA competition requirements. As I expected when I first laid eyes on these, they feature a thin top line and a beveled trailing edge, two features that are preferred by most low-handicap golfers.
Chip Brewer, President and CEO of Adams Golf commented on the new CB1's:
"Originally developed exclusively for our professional staff players like Tom Watson, the overwhelmingly positive comments about the feel and performance of the CB1s from the tour inevitably led us to make this set an integral part of the successful Idea family of irons…This stealth-looking set has already received high marks from golf enthusiasts plugged into the online community so we look forward to bringing the CB1s to low-handicap golfers everywhere who appreciate the control and workability of this forged set of irons."
Pricing? You're looking at a suggested retail of $899.99 for steel and $1,099.99 for graphite. Rifle Project X flighted steel shafts are available, or if you prefer graphite, the Mitsubishi Rayon Javln FX i95 shaft gets the nod. Shafts are available in regular, stiff or extra-stiff.
[Via: TheGolfWire]