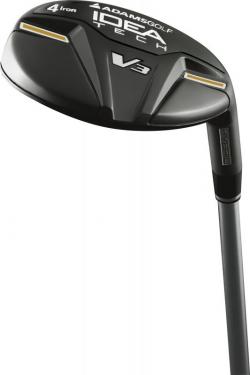 Earlier this month, Adams Golf unveiled its new Idea Tech V3 hybrids and hybrid irons that are supposed to establish a new standard in the "super game-improvement" category.   Intended for aspiring and recreational players looking to improve their games, the Idea Tech V3 set is offered in two configurations (forged or all-hybrid) in order to meet each customer's preferences. The Idea Tech V3 hybrids may also be purchased individually.
In both configurations, the eight-piece Idea Tech V3 set consists of 4-, 5- and 6- progressively-sized hybrids and a 7-mid-hybrid.
The forged set features four oversized cavity-back forged irons in 8-iron through gap wedge.
The all-hybrid set features four hybrid scoring clubs in 8-iron through gap wedge.
The easy-to-hit hybrids in both configurations feature strategically placed tungsten weighting in the premium stainless steel heads for enhanced forgiveness and spin.
A four-way cambered sole and recessed heel and toe areas reduce turf drag for superior playability and versatility.
The transitional hybrid mid-iron includes a viscoelastic vibration dampening system for exceptional feel.
The stock shaft for the Idea Tech V3 hybrids is the Mitsubishi Rayon Bassara graphite shaft. Offered in four different flexes and weights–stiff (65g), regular (60g), lite (55g) and super-lite (50g)–the Bassara shafts are designed to exactly fit each player's swing speed and type. For the short irons in either the forged or all-hybrid set, consumers may choose between True Temper Performance Tech shafts in steel or Mitsubishi Rayon Bassara shafts in graphite.
The eight-piece sets begin shipping to golf shops October 1 with a suggested retail price (SRP) of $899.99 for steel and $999.99 for graphite.
Individual Idea Tech V3 hybrids are available right-handed (2-7) or left-handed (3-6) with a SRP of $249.99 and will begin shipping November 1.
There is also a Women's' version of the Idea Tech V3 hybrid iron set fwhich provides the same advanced features and materials found in the men's sets, but with dedicated tooling and design specifications created specifically for a woman's swing.  Available with the Mitsubishi Rayon Bassara graphite shafts in the super-lite (50g) flex, the eight-piece women's set begins shipping to golf shops October 1 with a SRP of $999.99.
Watch the commercial here.