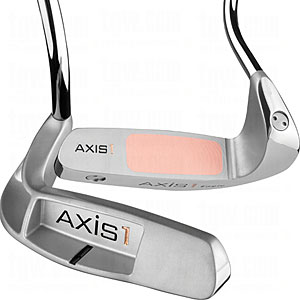 Dubbed 'Best in Show' by Sports Illustrated (Golf Edition), 'Best new golf product' by Golf.com, 'Most innovative club' by the PGA Show and 'Most innovative putter' by MyGolfSpy, the Axis1 Eagle Putter is an innovation in putter design that will make your head turn… and perhaps sink a few putts too.
Created by Luis Pedraza, the Axis1 Eagle putter is noted to be the first 100% perfectly balanced putter. The uniquely designed hosel and clubhead give the club perfect balance, which, in theory, should result in more on-line putts because your putter won't naturally open up. The face will want to stay square to the target line throughout your entire stroke. Interesting.
The club itself is made from 17-4PH stainless steel, and features a copper insert for a soft feel off the clubface. Stainless steel counterweight screws are also inserted in the putter before it comes off the assembly line. The counterweights used precisely balance the putter, which, in the end offers up a 0 putter torque rating. Twisting and turning when you strike the ball? Not with the Axis1 Eagle Putter!
I have to say, I'm VERY intrigued about the Axis1 Eagle Putter. I'm not quite sure how I stumbled across it, but I'm glad I did. To the folks at Axis1, expect an email from me in short order. I'd love to get my hands on this one to give it some thorough testing on the greens. When it comes to putting and the technology imparted to help improve our games… I'm open to anything!
Stay tuned for more…