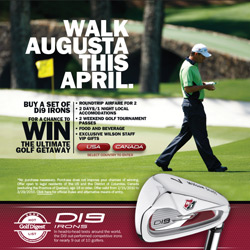 Wilson Golf has started up a new contest that will intrigue anyone that has a bag full of Wilson gear. The deal? To start, you'll need to pick up a set of Di9 irons. Once the sticks are in your bag, you can enter to win the following:
Roundtrip airfare for 2
2 days/1 night local accommodations
2 weekend golf tournament passes
Food and beverage
Exclusive Wilson Staff VIP Gifts
The contest is open to all in the US and Canada. For more details, head on over to Wilson.com.
Key specs on the Wilson Di9 Irons:
Powerful Head Design
The club head offers a low profile and wide sole that inspires confidence at address. A lower center of gravity produces higher ball flight, while the wide sole moves weight away from the face for greater stability.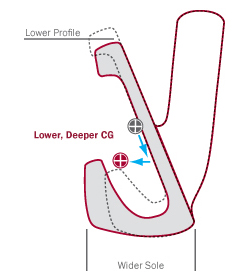 Hot Face
A thin, ultra-hot face delivers a competitive ball speed advantage for greater distance.
Patented Wide-Tip Shaft
The latest evolution of Wilson's patented wide-tip technology is the softest ever produced. While the wide tip controls twisting on off-center hits, the lightweight shafts from True-Temper and UST reduce overall weight for maximum clubhead speed.
Vibration Dampening
A vibration-dampening urethane medallion expands the sweet spot the entire length of the face. It also serves as a shock trap that reduces vibration that travels through the hosel and into the hands.
Note: I've got to say, the Wilson Di9's are a sharp looking club. Although I prefer the look and feel of blades in my bag, the Di9 has a half-cavity look, which no doubt combines the forgiveness of a full-cavity and the shot-shaping and 'feel' of a full-out blade.
A few more images of the Di9's are below for your viewing pleasure.