Cleveland wedges have long been the choice of many a touring professional. The look, the feel, and the accuracy and touch they give you on those shorter shots is undeniable. I too play Cleveland wedges (588 RTG's, 51*, 56* and 60*), and love 'em to bits. They're nice and 'rusty' these days, and allow me to drop and stop shots from all angles.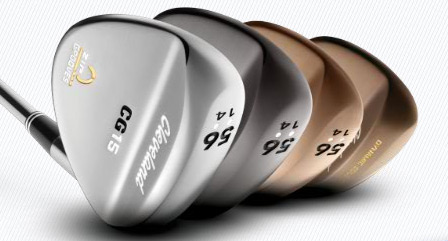 But this isn't about what's in my bag, it's about the CG15 line. Let's get started.
The CG15's are available in 3 custom finishes, and one custom grind. The CG15 Black Pearl wedges offer a dark, glare resistant finish. The CG15 Satin Chrome wedges bring a brushed aluminum look and feel to your short game. The last finish is the CG15 Oil Quench. This finish is sort of a copper/bronze color, and may remind you of your old 'trusty rusties' if you have 'em.
The CG15 Oil Quench is also available in a DSG model. DSG stands for 'Dynamic Sole Grind' and features a reduction of material on the sole… This is a preference of many top players, as it will allow you to open up the face without too much bounce, allowing you to get through the ball and make better contact.
Without a doubt, the most important features of the Cleveland CG15 Wedges are their precision laser milled faces and 'Zip' grooves. With new groove regulations coming into play, it may be a good idea to pick up a set (or two) of these bad boys to ensure you get optimal spin on those short shots for years to come. The 'Zip' grooves offer 25% bigger grooves, complete with sharp, cover gripping edges. You'll notice the distance not only from tight lies, but from shaggy shots out of the rough. The grooves grip, and give you that needed stopping action to control your ball. The laser milled faces also provide an extra layer of 'roughness' to the wedge face, giving you another edge over the competition.
For my money, Cleveland wedges are an almost must-have for any serious player. At the very least, they're worth a look. The classic design coupled with technology and performance make them hard to pass up.
For more information, hit up Cleveland Golf.