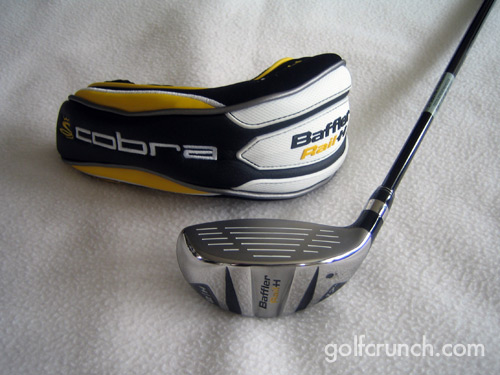 Before I take the Cobra Baffler Rail H Hybrid to the range, I thought I'd 'tee off' on it with my initial impressions. I currently carry a 20* Cobra Baffler Pro Hybrid in my bag, so I'm really curious to see how it performs in comparison. The club that Cobra sent my way is the new 17* Cobra Baffler Rail H Hybrid… and it looks sharp.
Besides the obvious difference in loft, the other major difference between the two Cobra hybrids in my possession are the shafts. My 20* baffler has a stock stiff steel shaft, while the new Rail Hybrid is packing a Fujikura Motore graphite shaft in a stiff flex. The difference in weight will be obvious, so it should be interesting to see what I prefer. I know it's more of a personal choice… From my point of view I always shafted my hybrids with steel, as I considered them part of my pseudo iron set… Will the graphite shaft perform for me? Will I enjoy the feel and performance of the graphite? You'll just have to wait and see!
While I'm talking shafts, I might as well touch on the shaft options available on the Cobra Baffler Rail Hybrid. It comes stock with the Fujikura Motore (in your choice of regular or stiff flex), and both of these shafts have a mid-kick point, weigh in at 65 grams, carry a 5.0 torque rating and produce mid to high launch conditions. For those that maybe don't have the fastest of swing speeds, a 'Lite' flex is also available, and this one offers a low kick point, weighs in a 60 grams, carries a 5.0 torque rating and offers a high launch trajectory. If the Fujikura Motore shaft options aren't for you, Cobra also offers quite a few custom shafting options. You can check out the options (including shafts from Aldila, Fujikura, Graphite Design, NS and True Temper) in this PDF (go to page 4 under 'Baffler Shafts').

Finally, I simply have to mention the sweet looking headcover on the Baffler Rail Hybrid. I snapped a quick photo of it below… it certainly puts the previous generation of Cobra headcovers to shame 🙂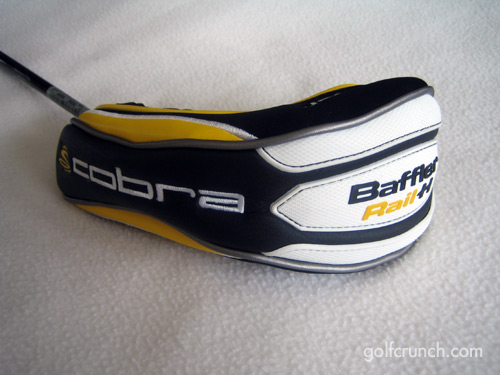 Stay tuned for more photos and a thorough review of the Cobra Baffler Rail H Hybrid. Can't wait for the first practice session with it in the bag!
Special thanks: To Terra and the team at Cobra-Puma Golf for the continued support!