At a very basic level, golf shoes with plastic spikes play a very functional role – keeping your feet from slipping throughout the golf swing.  With feet firmly planted, you have the stability necessary to drive your golf ball off the tee or finesse it from just off the green.  And anyone who has attempted to play in regular workout shoes can attest that this IS mandatory.
Over the last few years, golf equipment manufacturers have come up with all kinds of high performance shoes.  But not all golfers seek performance shoe nor do they want to pay the triple-digit price.  On the other hand, the standard, off-the-shelf golf shoes, like the ones found at Sports Authority, can be affordable, but uncomfortable and definitely not stylish.
Enter USA Dawgs (www.usadawgs.com) of Las Vegas, NV.  They offer a collection of casual golf footwear that blends exceptional comfort, performance, value and style for men and women.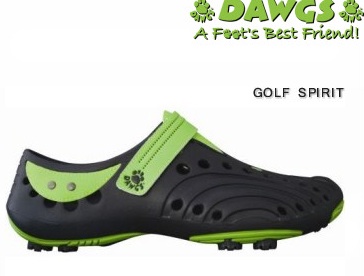 DAWGS Golf Spirit shoes are supposed to be the world's lightest golf shoe.  That's a claim that's more commonly heard with track & field shoes.  Yet, the company has made a point to promoted that Golf Spirit line of shoes weigh less than 7 ounces per shoe.  Just to compare, the Women's Nike Zoom Vomero+ 4, which is an excellent training shoe for runners, weighs in at 10 ounces.  The Women's Nike LunaRacer+ comes in at 4.5 ounces.  The Spirit splits the difference.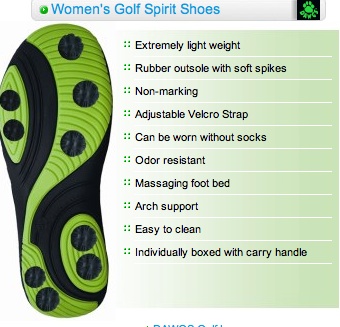 The price is light on the wallet too.  On their website (http://dawgsgolf.com/), you can purchase Golf Spirit shoes for $50.  They ship in a carrying case box that has a handle, which is an interesting touch.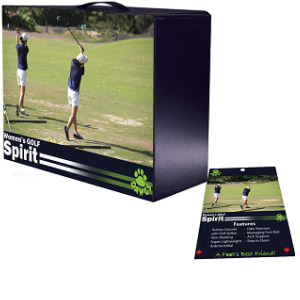 The box isn't necessary for vacation travel though.  These shoes can easily be tucked into a duffle bag.
For women. Golf Spirit shoes are available in six color combinations:
Black/Black
White/Black
Black/Soft Pink
Tan/White
Navy/White
Tan/Black
For Men, the options are:
Black/Black
White/Black
Black/Tan
Dark Brown/Black
Navy/Lime
Tan/Black
In addition to the Golf Spirit shoes, USA Dawgs has lines of casual footwear for golfers to wear before and after their rounds (shoes without spikes and flip flops).  Plus they make shoes for maintenance people on the course (Grounds & Greens line) and have a whole line for those in the hospitality industry (Kitchen & Restaurant).
DAWGS Golf shoes are  a "long tail" type of product that you'll most likely only find online since the slots at golf retailers are filled with traditional shoes.  Then again, they might wedge their way onto shelves at pro shops, so keep your eyes open.
###