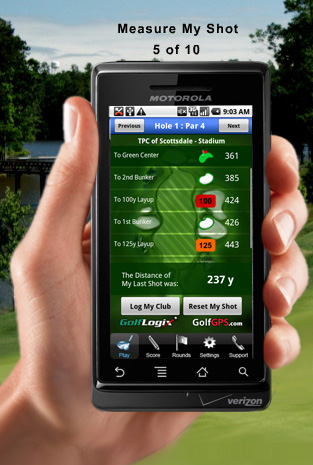 Got a Motorola DROID smartphone? There's a new app in town. GolfLogix of Scottsdale, Arizona has just unveiled a version of its popular GPS distance and stat-tracking app that works on Motorola DROID.   GolfLogix claims to have the #1 Golf GPS app worldwide.  It provides golfers with useful information like distances to the front, center and back of the green, as well as points out major hazards.
The DROID version joins the ones running on other popular smartphone platforms:  iPhone 3G, iPhone 3GS, BlackBerry Curve, BlackBerry Bold and Bold2, BlackBerry Tour and BlackBerry Storm, Storm 2,  HTC Touch Pro and Touch Pro 2.
DROID's large screen and high-resolution makes it an ideal host for the GolfLogix app.  In a prepared statement, Pete Charleston, president of GolfLogix said,  "Our development team is keeping pace with the cell phone industry. We are the only golf app provider who is focused on making our application available on as many phones as possible and allowing golfers to transfer their membership and keep all of their statistics when they change to a new phone."
GolfLogix uses a subscription model that runs $39.95 a year.  If you want to try it out before committing, the company provides a non-industry standard 24-hour free trial period to accommodate one round.
Payment of the yearly fee makes you a member of the GolfLogix community where you'll have access to  more than 25,000+ professionally mapped golf courses worldwide, a personalized statistic tracking website, distance information on every round, score tracking, club data, accessory discounts, free data upgrades and more. Plus, members receive all application upgrades and can transfer memberships to new compatible phones at no extra charge. GolfLogix' golf application can be downloaded directly from the Company's website (www.golflogix.com).
If you have tried it out on your DROID or other smartphone, please let us know how you like it.  Specifically, how well it worked under the various lighting conditions.