It's not often that the K.I.S.S. philosophy is applied to golf equipment.  But that was the case of the putter Jim Furyk used to win the Tour Championship ($11.35 million) and FedEx Cup.
Furyk played with  a heel-shafted, Yes! Golf Sophia putter which he purchased used at Joe & Leigh's Discount Golf Shop just outside Boston.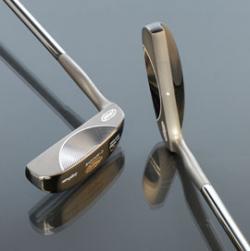 According to the "The Tour Van" story posted by Jennifer Gardner, Furyk found the flat stick after putting poorly at the Deutsche Bank Championship, held at the TPC Boston. He was looking for a heel-shafted putter with no alignment aids – "I just wanted it as simple as it could be, heel shafted," he said – and found the Yes! Sophia putter.
He shelled out a whopping $39 for it.
The little putter that could is now on its way to Wales for the Ryder Cup.
###