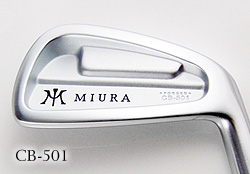 Japanese golf-club manufacturer Miura Golf has just introduced its CB-501 forged cavity-back irons.  Like all Miura irons, the mild-steel CB-501s are hand precision-forged and custom crafted by Katsuhiro Miura, Miura Golf Inc.'s 67-year-old founder, whose forged clubmaking skills over the past 49 years have prompted the Japanese to claim he has "the Hands of God."
What distinguishes the CB-501 is the effort Mr. Miura's took to create an iron that featured the ideal ball flight, enough offset to promote playability, the perfect head size and a sole grind that would accommodate a broad range of players.  One of the things he ended up doing was borrowing a design feature from the company's past-the sweet-spot muscle-back, which was used in a very different Miura iron, the CB-1003, back in 1996.
In all, Mr. Miura spent two years integrating these design variables in different ways until he found the blend that worked best for the widest range of golfers. The result is the CB-501-a cavity-back iron featuring a small muscle-back located behind the sweet spot that delivers the trajectory of a blade iron when the ball is struck on the center of the face. This style of iron also offers cavity-back forgiveness and ball flight, as the contact point moves away from the center of the face.
The CB-501-which boasts a W nickel (satin) chrome finish-is available in a 3-iron through pitching wedge set, right-hand only.  You can find it at high-end, custom-fitting shops.  Pricing is not available.   To learn more, go to www.miuragolf.com.