British Columbia-Japanese golf-club manufacturer Miura Golf has just announced the K Grind wedge which features characteristics making it ideal for hitting out of wet sand.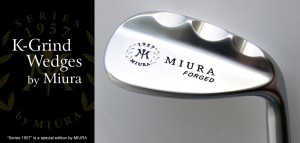 The sole of the new K Grind wedge is "fluted" making it look like it has finger-tip impressions on it.  These three channels reduce the resistance against the wedge in sand, thick rough, and even the fairway. The sole of the wedge moves with the grass instead of against it. The channels move around the sand instead of colliding with it. It allows the wedge to accelerate thru the ball with less effort in every condition to improve the odds of hitting a good shot.
Characteristics of the K Grind Wedge:
Better results out of wet sand.
Reduces the odds of "catching it heavy" on long bunker shots.
Better acceleration on ½ and ¼ swings around the green.
Digs it out of deep rough.
Works great in normal conditions.
No pricing information was released.  Miura Golf clubs are sold at high-end, custom-fitting shops in North America. More information on Miura products can be found at www.miuragolf.com.
Source:  Miura Golf
Related:  Miura Golf Introduces CB-501 Forged Cavity-Back Irons
###