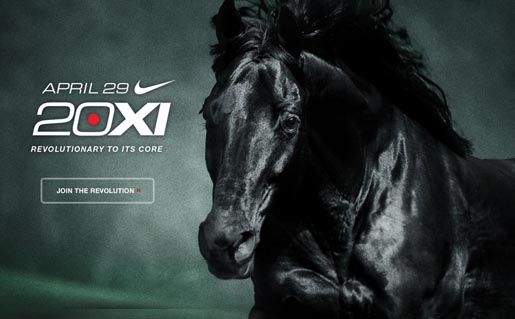 Nike Golf has a new ad (an incredibly impressive one) that doesn't feature Tour Pro golfers.  Rather, the star is a magnificent black stallion that is moving quite quickly through a golf course — tearing up turf.  As it approaches a green, the stallion rears up on its hind legs and then lands his front hoofs on the green without leaving a mark (note:  I replayed it several times to confirm what I thought I saw).  Impressive indeed.
At the end of the 30 second spot, we are informed the product is the 20XI golf ball, and it will be available April 29.
??
Found out that the 20XI is the latest Nike Golf advanced technology product to emerge from "The Oven."
It is a revolutionary golf ball that is the first ball on Tour to use a radical new core technology which delivers more distance off the tee and better control around the greens.
The analogy of the stallion makes sense.
Upon further research, I found a post by Rock Ishii, Nike's product development director, Nike golf balls, which provides insight into the new 20XI golf ball: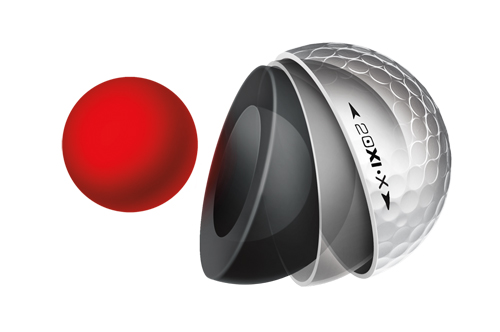 The construction of the 20XI creates consistency within its make-up and the results it provides.
With the older technology, the solid rubber core, you had so many manufacturing steps, additives, curing, pressing, etc.  The new 20XI ball with its radical new resin core simplifies things.  It's no longer about layers, but instead about a faster and lighter core.
In the past ball designs, we were limited in terms of MOI (moment of inertia). In the 20XI ball, we used an ionomer lightweight material around the perimeter. By moving the lightweight material to the center, we achieve higher MOI with a heavier perimeter. This MOI increase makes for a steeper spin slope; a ball that spins more off short shots and less off a driver, creating a huge competitive advantage for our athletes.
That advantage comes at a steep price:  $58 a box.
To put that in perspective, Titleist Pro Vs run $45.95.  The TaylorMade Pentas list for the same.
The ad appears below.  Nike Golf's agency of record,  Wieden + Kennedy Portland was responsible for it.  Ellen Kuras directed it using Alexa and Phantom cameras to convey the message of power and control.
They've got me curious.  Now I wonder which Tour Pros will bite.  As of the last "Tour Van" post by GolfWeek, the ball breakdown for the Valero Texas Open (144-player field) was as follows:
1. Titleist (104)
2. Srixon (12)
3. Callaway (10)
###