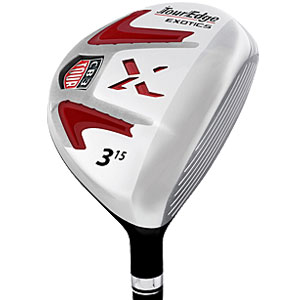 Tour Edge of Batavia, IL has an offer it hopes golfers won't refuse — Try their new Exotics CB3 Tour fairway wood, which the company is guaranteeing will add 20-yards more than the distance your are currently getting from  your current fairway woods.  If it doesn't deliver as promised, you can get your money back.
So what makes the CB3 so capable of propelling your ball farther down the fairway?
To start, it boasts a forged 15-3-3-3 titanium cupped face that is lighter and more powerful.  The company has also played around with variable face thickness which includes a thinner perimeter ring around the striking surface.  Thin face equals long hitting.  Who knew?
And, as they say in the informercials, there's more!
The a high-tech, titanium cupped face is paired with a heavier hyper steel body. What they did was eliminate every single gram of excess weight  from the face area  and shifted to the rear skirt and sole for a deeper center of gravity.
The Exotics CB3 fairway wood will set you back $299 and comes with come with a lifetime warranty.  Regarding the promotional 20-extra yard guarantee, the catch is that "you can return it under the company's 30-day play guarantee for a store credit or refund depending on the retailer's policy."   A quick check indicates that the CB3 can be found at Sports Authority and Dick's Sporting Goods.  TGW.com carries it too.   Make sure you check ahead before you pull the trigger.