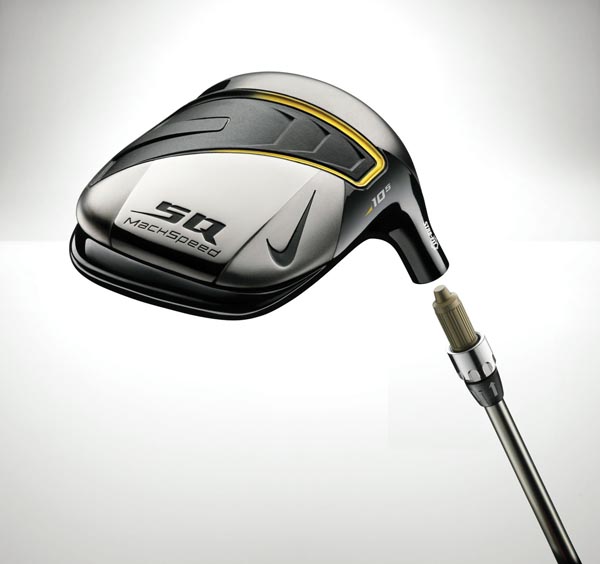 Just the other day I noticed that the Nike SQ MACHSPEED Driver officially hit the stores. It's a sharp looking club. The new driver from Nike features STR8-FIT technology, and promises to be the longest Nike driver ever produced. Let's take a closer look at what the Nike SQ MACHSPEED has to offer.
As you can guess, the MACHSPEED is all about, well, SPEED. The club was designed to optimize aerodynamics of the clubhead, which results in higher potential clubhead speeds than any other Nike driver ever made. Faster clubhead speeds = longer distance off the tee… Something most of us seem to be obsessed with.
Nike also has their STR8-FIT technology on-board, which allows you to adjust the face-angle of the club. Eight face angle options are available, from 2 degrees open to 2 degrees closed, giving you the 'play' you need to tune the driver to your liking.
One of the major design features you may have noticed is that funky looking sole. Sure, it looks a tad odd, but there's a purpose to it. Nike has moved weight around and into the corners of the clubhead to provide stability and forgiveness. Combine this with the overall shape of the head, and when standing above your next tee shot you'll undoubtedly have the confidence you need to pound one down the middle.
The SQ Machspeed STR8-FIT driver is available in lofts of 8.5, 9.5, 10.5, 11.5 and 13 for men. It's available in 11.5 and 13 for women. Shaft flexes available include senior, regular, stiff and x-stiff. In the box you'll find the STR8-FIT torque wrench, and a great looking headcover. Want to see more? I've included some more promo shots for your viewing pleasure below: