TaylorMade-Adidas Golf Company and the San Diego Padres just unveiled an 80-foot tall R11 driver foul pole in right field at PETCO Park as part of an innovative partnership agreement to extend through the 2013 season.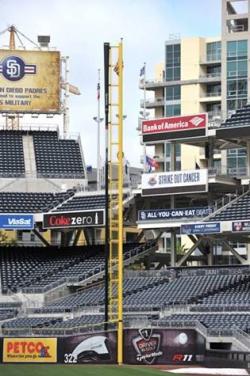 Weighing 950 pounds, the all-aluminum structure runs parallel with the existing foul pole structure, while the 14-foot wide by 8-foot tall image of the R11 clubhead is positioned on the fence in the corner of right field.
The weather- and impact-resistant grip was custom rolled out of .90″ aluminum, welded into a taper shaping and then given a vehicle, textured, bed lining coating to give it a rubber look.
It took 3 days and a total of 250 man hours to install. The R11 foul pole structure is the first of its kind in Major League Baseball.
###