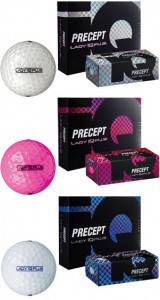 Precept is teaming up with Sundog Eyewear to create an attractive offer for lady golfers:  Buy any 3 dozen of the Precept Lady iQ PLUS golf balls, and receive a complimentary pair of Paula Creamer Collection sunglasses by Sundog – a $90 value. The glasses will be available in a choice of the same stunning mahogany or black colors that Creamer wears so stylishly on and off the course.
The LADY iQ PLUS  golf balls (MSRP $30/Street priced $19.99) boast Bridgestone's popular 330-dimple design cover with patented Seamless Cover Technology that provides a consistently higher trajectory and more carry, for female players. The ball continues Precept's tradition of performance with style offering balls in Traditional White, Clear White and Bright Pink; the same signature pink color that Precept and Sundog brand ambassador Paula Creamer has made so popular through her use on the LPGA TOUR.


The Paula Creamer Collection sunglasses feature Sundog Eyewear's Mela-Lens for a new level of stylish, comfortable eye protection. The breakthrough Mela-Lens technology filters 98% of dangerous "Blue Light" effectively reducing veiled glare. Since the light is not blocked, but filtered, color balance is maintained. Not only is Mela-LensTM the ultimate lens for golf, it is the ideal lens for any outdoor activity.
The promotion kicks off on May 1st, 2010 and will run through June 30th, 2010.
###