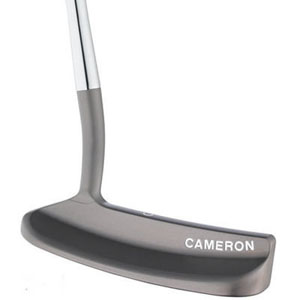 During my first round with the Scotty Cameron Circa '62 No. 1 in-hand, I rolled about a 60 footer from off the green, straight into the heart of the cup. I knew from that point on that this short stick was going to enjoy an extended period in the bag… In fact, it's been over a year since I first introduced it to my game, and it's still rolling strong.
In the design of the Circa '62 No. 1, Scotty Cameron has put together a 'new' classic. Based on the blades of yesteryear, the No. 1 combines that great classic look, with a soft (and very buttery feeling!) carbon steel putter head. The view of the putter from the top line is clean. No markings at all are found on the flange, all you'll notice is a small alignment dot on the top. That's it. And, during those bright and blindingly sunny days, there's no worries of glare. A custom charcoal-mist finish knocks down any glare to keep your focus where it should be, on the putt.
Everything feels right when you lay the No. 1 down behind the ball. The head feels balanced, the grip is perfect, and a 3/4 offset feels 'just right' at address. At least, that's my opinion.
Scotty Cameron assures that ALL putters in the Circa '62 line have been optimized for perfect grip weight, headweight and shaft flex… and I can say from experience, this putter is a keeper. In fact, even though I've only hit the Circa '62 No. 1, I'd hazard a guess that all models (there's the No. 1, No. 2, No. 3, No. 6 and No. 7) are just as smooth, buttery and responsive as the next. Trust me when I say if you're looking for a putter that gives awesome feedback and a true roll… Look no further than the Scotty Cameron Circa '62 lineup.
Key specs on the Scotty Cameron Circa '62 No. 1:
Loft: 4 degrees
Lie: 71 degrees
Length: 35″ (RH)
Headweight: 330g
Swingweight: D4-D6
Head material: Soft Carbon Steel
Offset: 3/4 shaft
Of course, as with all Scotty Cameron's you can have yours customized to your liking. To do so you can visit Scotty's Custom Shop, for re-gripping, re-shafting, custom logos, initials, and a lot more.
Now, on to a small photo gallery. I hope you've enjoyed this brief look at the Scotty Cameron Circa '62 No. 1!