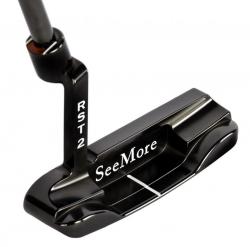 You may have first became aware of SeeMore back in 1999, when Payne Stewart used a SeeMore putter to win the U.S. Open. That was quite awhile ago, and ever since the brand was re-launched in 2007, it seems as though more success is shining through. Most notably was Zach Johnson's 2007 Masters victory in which he stroked a SeeMore. In 2009 Johnson ended up 4th on the tour money list earning a cool $4.7 million, no doubt in part to the smooth-rolling SeeMore in his bag. I could go on with more highlights from the brand, but simply know that 10 players out of the top 125 on the money list used a SeeMore in 2009… and now they're expanding their line.
New from the SeeMore Putter Company is the DB4 CS Gunmetal. The new putter features SeeMore's RST2 technology, which helps you get yourself aligned and in proper position to make a great stroke. The 'RST2' technology is an update to the 'RST' technology currently built-in to the current lineup, as the update takes on a blade design with offset hosel for the first time ever. The main difference between RST2 and the traditional RST technology is the location of the markings. With an RST2, you'll find the alignment system housed on top of the hosel, vs. the RST system which was (is) found on the top heel portion of the putter.
Jim Grundberg, SeeMore's Managing Partner commented on the release of the new DB4:
"The new DB4, like all of the SeeMore putters before it, is one that solves one of the most fundamental problems in putting, that of consistently accurate alignment at address. It offers the confidence to make a fundamentally solid and repeatable putting stroke each and every time… The RST2 patented alignment feature is extremely exciting in that it has been developed with the input of the world's best tour players over the past 2 years and simply makes a great putter design better by improving a player's ability to set up square to the intended target line."
More images of the SeeMore DB4 CS Gunmetal with RST2 technology are below. The putter is 100% milled in the USA, and is available in carbon steel with a proprietary multi-layer black satin finish. Price? MSRP $295.
More info: SeeMore.com
[Via: TheGolfWire]