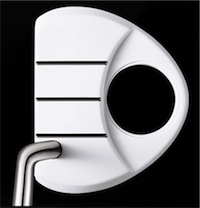 TaylorMade Golf, maker of Rossa® putters, has unveiled Corza Ghost, a mallet specially designed to be exceptionally easy to aim, and exceptionally easy to use to roll the ball down your intended line. It was designed with significant input from Rossa Tour Staff professional Dave Stockton, considered the hottest putting instructor in the world.
Corza Ghost's putterhead is white and has three alignment options that all have high contrast against their backgrounds.   According to  Dr. Steven A. Hitzeman, a professor at the Indiana School of Optometry:
"That high contrast maximizes stimulation to the retina and highlights the head's shape and features. The contrast would be lower if the putter were black or gray because these colors are closer in luminance to the color of the putting green than white. White creates the biggest difference in luminance, hence maximizing contrast and promoting focus.
Many golfers use the leading edge of the putter as part of their alignment strategy (by positioning the edge perpendicular to the imagined target line). So, this high contrast for the leading edge gives the golfer the best chance of squaring up the putterface at address. Also, the lines on the top of the putter are painted black to achieve maximum contrast against the white surface of the putter. All of these high-contrast alignment elements give the golfer the best possible chance of accurately aiming the putter."
Being a mallet, Corza Ghost's high-MOI head is extremely stable on off-center hits and feels extremely solid at impact. Its three alignment lines on the crown function not only to help aim the face accurately, but also to frame the ball in the middle of the face, which promotes solid, center-face contact on every stroke.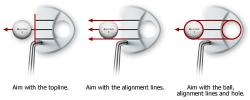 Corza Ghost also has the advantage of Rossa's renowned and tour-proven AGSI+ (Anti-skid Groove System Insert) Technology.  AGSI+ features 14 polymer-filled grooves in the face that "hold" the ball briefly at impact to promote forwardspin for a smoother roll and more accurate results. The AGSI+ insert, in concert with the putterhead's extremely high MOI, also delivers superior consistency in forward roll on off-center hits, something not shown in tests of other popular putters.
Corza Ghost is scheduled to appear at retail starting in June, at a manufacturer's suggested retail price of $159. Two more Ghost models – a blade and a mid-mallet – also with white finish and black alignment lines, are scheduled to become available in July.
###
Source: TaylorMade Golf