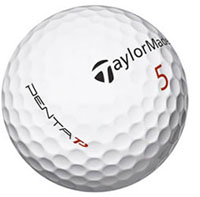 In baseball, if someone is called a five-tool player, it means that they excel in five key areas:  hitting for average, hitting for power, base-running skills/speed, throwing ability, and fielding abilities.  It is rare to find someone who can do all those things really well.
When it comes to golf balls, you'll find ones that emphasize either feel or spin or control or launch or distance.   Perhaps, the ball will do a combination of some of these.  But up until late last year, there wasn't a ball specifically designed to excel in all five areas.  Then came TaylorMade Golf's Penta TP – the industry's first 5-layer golf ball.
Announced in September 2009, this is the first golf season it has found its way onto the golf course.
Penta TP is the first tour ball with five solid-layers, with each layer engineered to optimize performance in five key shot categories that skilled players need – driver, long-irons, middle-irons, short-irons and partial wedges. The five layers of Penta TP include the core, inner mantle, middle mantle, outer mantle and cover, and each one plays a critical role in optimizing the performance of each of the five key shots.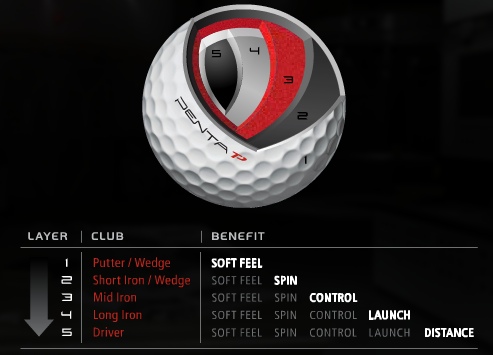 Layer 1 – Cover: The Penta TP has a soft, durable Urethane Cover that delivers the coveted combination of lower launch angle and higher spin rate, while also providing soft tour feel.
Layer 2 – Outer Mantle: Promotes optimum spin off the short-irons to stop the ball quick without sucking it off the front of the green or drawing it back too far from the hole.  Of the four mantles, the outer one is the fastest.  Positioned just beneath the cover, it is easily compressed by slower swingers (ball speeds 120 mph and below), helping them to generate higher ball speed for increased distance.
Layer 3 – Middle Mantle: Consists of a fast material, allowing medium-slow swingers (who average from 120 to 140 mph in ball speed) to generate more ball speed and distance, as they will compress only the two outermost mantles underneath the cover.
Layer 4 – Inner Mantle: Consists of a fast material, which helps players who average from 140 to 160 mph in ball speed to generate more ball speed and distance, because although they don't swing fast enough to activate the core, they are able to activate the three layers between the core and cover including the inner mantle, which is the deepest of the three.
Layer 5 – Core: This is most critical layer to promoting high launch and low spin off the driver.  The Penta TP has an extremely soft, low-compression core.
But the thing that has reviewers raving is TaylorMade's LDP technology which uses improved aerodynamics to promote increased lift to keep the ball in the air longer for more distance on the most common types of driver mis-hits, which occur on the top half of the clubface.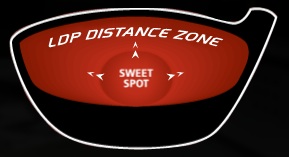 Showing up on the Tour:
The Penta TP is already being used on the PGA Tour by Sergio Garcia,  Retief Goosen, Y.E. Yang, Justin Rose and Jason Day.  Dean Snell, head of TaylorMade golf ball R&D remarked, "It usually takes players several weeks or even months of trial before they'll change balls.  We're seeing players switch into Penta TP after testing it for nine holes. That's proof that Penta TP offers a dramatic improvement in performance."
In January, TaylorMade Tour Staff professional Martin Kaymer used the Penta TP to win the Abu Dhabi Championship.  It was the first worldwide Tour victory for the Penta TP golf ball. "I switched to Penta TP from another brand only one month ago and," said Kaymer. "It's easily the best ball I've ever played."
Not Just for Pros:
The Penta TP is not just for the pros.  It was was designed to benefit all levels of player.   However, the price point is on the pro side:  $45.99 for a dozen with no discounts found anywhere.  But if you want to treat yourself, this five-layer ball is a nice change from Titleist Pro V1s or other high-end balls.