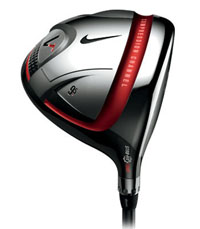 I've been wondering for some time now what Tiger Woods would have in the bag for his Masters effort this year. Obviously, I didn't think much would change (other than the branding on the actual bag!), but after doing a little bit of research, it looks like there is at least ONE important change.
First, I found out that Tiger has made a switch from the Nike Dymo Tour Driver he last played. He now has a Nike Victory Red Tour Driver in the bag… and I just confirmed this while watching him on the 10th green at the Masters. As he tapped in his disappointing bogey with the top of his putter, he pulled what was clearly the Victory Red Driver out of the bag, removed the headcover, and was no doubt looking forward to crushing one down number 11.
Speaking of putters, there had been some rumblings that Tiger may be changing to one of the new Nike Method putters. As you've probably noticed already, looks like that rumor wasn't true. Tiger still has his trusty Scotty Cameron in the bag, and from what I've seen so far, it looks like he hasn't lost much of his touch with the flatstick.
If anything, Tiger is looking a little rusty in shorter chips and pitches around the green. Should be VERY interesting to see if he can post a couple of sub 70 rounds before the weekend.