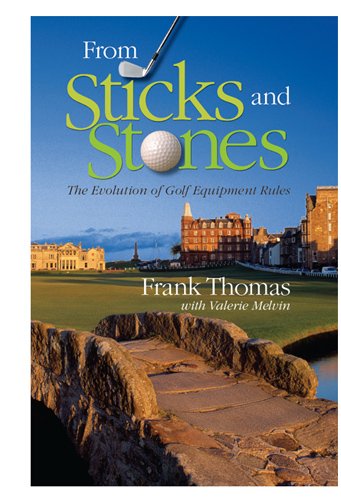 There's a new book out that is a comprehensive history and analysis of golf's equipment regulations and their effects on the game. Written by Frank Thomas with Valerie Melvin, From Sticks and Stones ($24.95) dissects all the equipment-related provisions in the Rules of Golf, and explains why they were written, what they were meant to achieve and evaluates their relevance today.
As the Technical Director of the United States Golf Association for more than 25 years before resigning in 2000, Thomas conducted or oversaw the testing of every technological advancement in golf balls, clubheads, shafts, grips and accessories during the most active and turbulent time in the history of golf.  He definitely has his finger on the pulse of this subject.
Thomas and Melvin give the reader an inside look at how golf's governing bodies – the Royal and Ancient Golf Club of St. Andrews and the U.S.G.A. – have dealt with equipment innovation and the Rules of Golf from the first mention of "Form and Make of Golf Clubs" in 1908 to the ultra-sophisticated calibrations of today.
"The object of this book," writes Thomas, "is to provide a written document of how, why and when equipment had been regulated and to consider the effect of these regulations."
From Sticks and Stones is available now and can be purchased for $24.95 USD plus shipping and handling directly through Thomas' website at the following link: http://www.franklygolf.com/fromsticksandstones.aspx.
###
Read full announcement here.