The folks at Tiger Shark were busy with post-Masters announcements.  One of the oldest brands in golf, Tiger Shark (www.tigersharkgolf.com) offers a variety of golf equipment with a specialty in grips, putters, complete sets, drivers, wedges and hybrids.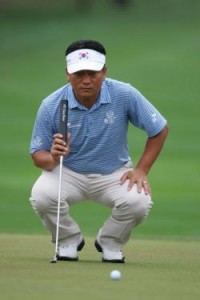 Their first announcement was about KJ Choi, who finished T4th at the Masters, using the company's SuperStroke over-sized putter grip. The grip measures 1.67 inches in diameter or roughly 3 times the size of a standard putting grip. Choi ranked 4th in putting at the 2010 Masters with 114 total putts, a 28.5 Putts Per Round average. He earned $360,000 for the Top 5 finish.
The jumbo grips are designed to reduce wrist breaks and enhance a pendulum stroke, and they are also proven to reduce grip pressure and keep the putter head square. Extensive testing has shown that the SuperStroke requires up to 32% less grip tension and represents a significant improvement over conventional putter grips. Other benefits include natural balance and set up, less putter head rotation, accurate smooth putting stroke, improved ball roll and greater distance control.
Based on the description, it looks like it was actually the SuperStroke Fatso grip that was used.  The jumbo grip is merely 1.25 inches in diameter.
The other announcement the company made stated "The player who finished tied for 14th at The Masters Sunday played a Tiger Shark Golf Great White putter and Tiger Shark oversized putter grip that he purchased at a golf retail shop just days before the event."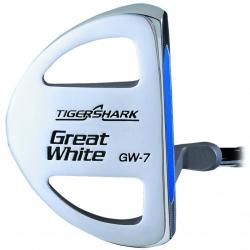 It noted that this player had worked with the new putter at the beginning of the week and officially put it in his bag for the Masters, leading him to only 109 total putts, and the #1 ranking in putting at the 2010 Masters. The putter and grip combination led the player to finish 3 putts better than the next closest competitor.
According to Tiger Shark's spokesperson, the player wasn't named because "we do not have the rights to his likeness or name."
You can figure it out for yourself — four golfers were tied for 14th.