UPDATE: During his press conference at The Players, Tiger just commented that 'he may have a set'… but the clubs up for auction are not the ones used to win the 'Tiger Slam'. Woods went on to mention that he has possession of all clubs that he has won major championships with. So there you have it… the clubs may indeed be from Tiger's bag, but they are NOT the ones used to win the Tiger Slam, as claimed.
What if I said you could get your hands on the very same clubs Tiger Woods used to win the 'Tiger Slam' in 2000-2001. You'd say I'm crazy, right? Well, think again.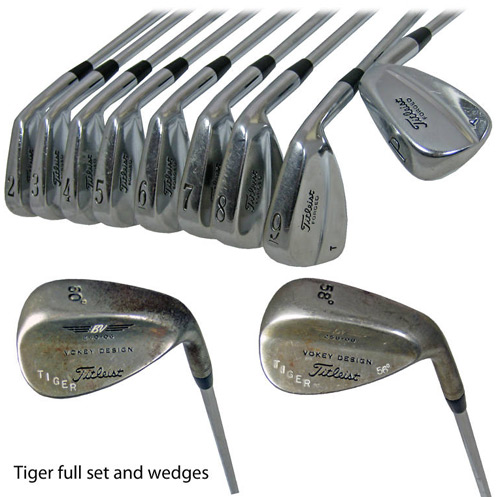 Going on right now is an eBay auction featuring a set of clubs claiming to be the same ones Tiger had in the bag for his historic run. Where did the clubs come from? They were said to be a gift from Tiger himself, that is, according to the person putting the clubs up for sale, one 'aphotoshop1'. I wonder if aphotoshop1 is a guy or a girl?… 🙂
At any rate, as you can see the irons are 2-PW, and have a 'T' stamp on the back toe. They are 681 forgings custom made by the great folks at Titleist to emulate his trusty Mizuno MP14 and MP29 hybrid set. The 2-iron is 39″ long and each club through the order is 1/2″ shorter than the next. The wedges are Vokey's, a 56 degree (58 bent to 56) and a 60 degree. Both have 'Tiger' stamped on the back toe.
The seller ensures these are the real deal, and he/she has a certificate of authenticity. For all the details and specs on the clubs, or to place your starting bid (starts at $250,000), head on over to eBay.
What say you? Are these real or real fake?