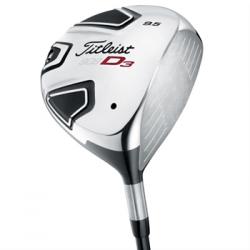 I can speak to the playability and classic looks of the Titleist 909D3 Driver because… I own one. I purchased the 909D3 a few months back. Picked one up in 8.5 degrees, with the stock stiff Aldila Voodoo shaft.
The club is solid. At address, the look is classic. Perhaps that's what I like most about Titleist clubs, the classic look and feel at setup. But there's nothing classic about the way the ball flies off the clubhead. I'd call it explosive.
The 909D3 promises to deliver a low and deep ball flight, and yes, I can attest to this. No doubt the 8.5 degree loft I have on my bad boy is a big factor, but off the face the 909D3 is in a word, 'boring'. The thing rockets low and hard off the clubface. If you play in windy conditions or simply prefer to keep things 'low and slow', the 909D3 is worth a look. There's much more to it than that though…
I'll let Titleist's official description do it justice:
With a classic pear profile, deep face, and 440cc titanium construction, the Titleist 909D3 is a high performance driver delivering mid launch with low spin.

The 909D3 features a tour proven, modern profile that creates a low and deep CG for reduced spin, higher MOI, and longer, straighter drives. The classic pear shape with a smaller, deeper face enhances workability for shot and trajectory control.

The tuned sole of the 909D3 includes optimized pockets and an internal rib for reduced vibration, providing solid feel and better sound.

An integrated titanium blind bore hosel design saves weight, provides solid feel, and allows for more shaft options. The factory installed SureFit Swingweight Screw helps to position the CG deep while also providing a precise head to shaft match.
All in all, the 909D3 is one of the better drivers I've ever used. I prefer it in comparison to the similar 909D2, mostly because of the deeper profile. If you've got a set of blades in the bag, and prefer a classic look, the D3 could be a great fit for your arsenal. But be sure to get properly fitted for this one… as we all know proper loft, shaft, lie angle and club length should be tailored to your unique needs for optimal performance.
For more information check out the 909D3 at Titleist.