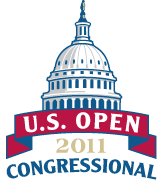 Pro's making changes to their equipment this week at the U.S. Open is no new revelation. To many it may seem strange for a player to change up what clubs they have been playing with for the previous tournaments. While PGA Tour players don't always change their equipment, they do tend to make changes to their clubs right before a big tournament. Essentially it all comes down to the course conditions for that tournament. Certain types of golf clubs are better suited for different course conditions.
For this weeks' U.S. Open the playing conditions at Congressional Country Club blue course are best known for their narrow and long fairways, along with a deep rough. This week it's crucial for players hit the fairways. Instead of using what players have become comfortable with they are switching to a 2-iron to get the most accuracy possible off the tee. At least 12 players in the field, including 5-time 2nd place U.S. Open finisher Phil Mickelson have added this golf club to their bag. Not having a 2-iron in his bag for the past 6 years may prove more difficult than he imagined, during the first round he shanked the 2-iron off the 14th tee into weeds.
Mickelson and a few other players also added a high lofted wedge to their golf bag for this week's tournament. The higher lofted wedge allows for more versatility around the green and deep rough. Their shots have a better chance of getting high and landing soft from various lies on the greenside bunkers or in the deep rough.
Every tournament will have players thinking about adding different golf clubs in their bag depending on the conditions. The same 14 clubs in their bag for one tournament may not make sense for another depending on the course. When preparing for the U.S. Open (arguably one of the toughest majors to win) players will prepare as best the can to have every advantage possible on a tough course like Congressional.