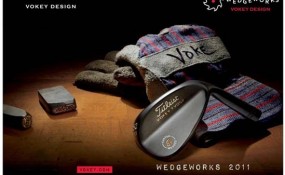 When Brian Vokey and the team at Titleist introduced 'WedgeWorks' last year, I was in awe. The online shop let you pick and choose from a lineup of custom wedges that you could tune and tailor to your liking. Add initials, adjust your loft, length, grip, and much more. The website (click here) is awesome to say the least, and in all honesty… if you're not a Cleveland wedge fan (I am), Vokey wedges are a solid choice.
Well, for the longest time Canadians have been shunned from ordering from WedgeWorks. That is, until now. Titleist has just announced that Vokey WedgeWorks is now available in Canada.
Unfortunately, the order process isn't exactly an easy one. Folks in the U.S. can simply go through the online customization process. It's fun, easy, and I often find myself browsing around the site… you know, putting together custom wedges, and playing around with different options (it's pretty darn cool). For Canadians (and other 'international' regions), an order form must be printed, filled out, and returned to your nearest Titleist golf club retailer. The retailer confirms your order, and returns the form to Titleist for fulfillment.
For more information, below are the order form and brochure PDF's for your enjoyment.