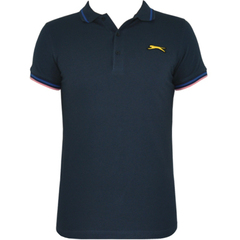 I have to admit, when I think Slazenger, I think of Wimbledon. I think of their tennis balls, of the fortnight in London to crown the champion at the 'All-England' club each year. That's just me… But if you take a look at the golf fashion Slazenger is pumping out these days, it looks like they're trying to change my mind.
The other day I noticed the good folks at TrendyGolf posted an offering of the new 'Heritage' line from Slazenger. At first glance, I loved the look of them. At second glance, I loved them even more.
Made of 100% cotton, the Heritage line from Slazenger is without a doubt, one of the more classic polos from the 80's. Emblazoned with the 'golden cat' logo, put one on and I bet you couldn't help but feel like Seve celebrating his Open triumph with a few fist pumps.
Available now from £39 (around $58USD), head on over to TrendyGolf for a look at their selection. Many colors and sizes are available!