TrendyGolf.com noted in their blog that the golden panther is on its way back.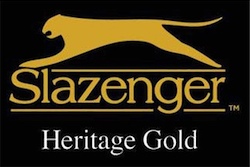 Rewind to 1984, when Seve Ballesteros won the British Open Championship at St. Andrews wearing that classy v-neck with the golden panther.  Apparently this move by Slazenger to bring back the look coincides  with the 150th anniversary of the Open Championship which is taking place at the Old Course, St Andrews in July 2010.
There isn't much in the way of details available yet.  Noted was the fact that this updated Slazenger Heritage Gold line will be featuring classic v-neck sweaters, cardigans and polos that have been modernized into a slim fit.  Chances are, the materials used have been updated while maintaining the classic look.
So keep your eyes open.  And if you want to be one of the first to know when the line is available, go to TrendyGolf.com.
###