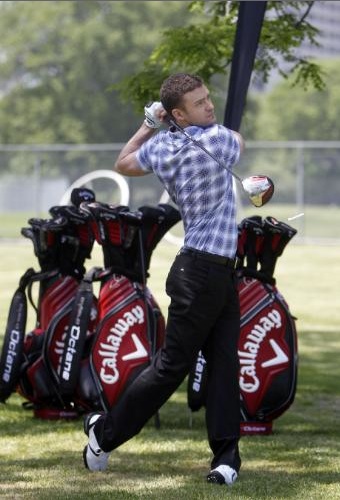 Callaway Golf just kicked off a social media contest with golfer and entertainer (and Callaway Golf staff pro since 2008) Justin Timberlake. The effort centers on a contest, "Tee Off with Diablo Octane and Justin Timberlake," which ties into Father's Day.  Two lucky golfers a once-in-a-lifetime golf experience –they will be treated to a round at Mirimichi, Timberlake's world class golf course in Millington, Tenn. where they will meet and hit golf balls with Justin Timberlake. They will also enjoy a custom fitting experience for a full set of premium Callaway clubs and play 18 holes on Mirimichi's Championship Course.
The contest launched last week  ton Callaway's Facebook page (Facebook.com/Callaway), where participants can also win one of 25 Callaway Diablo Octane Drivers, the powerful new club that is Timberlake's current driver of choice.
Timberlake & the Father's Day Connection:  Timberlake was first introduced to the game by his dad, Paul Harless, on the Mirimichi course that they now own together.  Over the years, playing together and enjoying time on the golf course has strengthened the bond between them.  Callaway's contest encourages fans to share an emotional and entertaining story that describes how the game of golf has brought them closer to someone in their life.
To enter the contest, fans need to enter a written submission on Callaway's Facebook page of up to 100 words by June 19, 2011, the contest's closing date.  In July, Callaway will announce 25 finalists and the grand prize winner will then be chosen by popular vote on Facebook. All 25 finalists will be awarded a new Callaway Diablo Octane Driver, the first club made with a groundbreaking ultra lightweight material called Forged Composite™ that Callaway co-developed with Automobili Lamborghini.
###