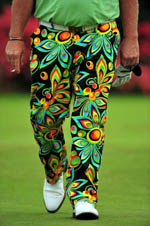 We have a winner! Earlier this morning at just past midnight, I randomly made the selection for our 'We're Pantsing John Daly' LOUDMOUTH contest winner… and the winner is…. LISA HORNE!
Congratulations to Lisa! We have already reached out to her to sort out the details. Lisa has won a pair of LOUDMOUTH pants, courtesy of GolfCrunch.com. She can feel free to browse and pick any pair she likes, and we'll arrange to have them shipped right to her front door 🙂
Regarding the other portion of our contest, I've spoken (well, actually 'Tweeted') with John Daly, and he has agreed to wear the Shagadelic-Black pants on Thursday's round in Puerto Rico. As a close runner up (based on your comments/votes), the Margarita pants almost made the cut. I mentioned to John that if he wanted to wear another pair for us on Friday, the Margarita's would be the ones to wear 🙂
The top 3 LOUDMOUTH pants based on your votes were the following:
Shagadelic Black
Margarita
Evel Jeans
Keep an eye out for John on the course this upcoming Thursday and Friday at the Puerto Rico Open. Based on YOUR votes, he'll be wearing the pants of your choosing. Fun stuff, for sure… I hope you all enjoyed the contest!
A big THANK YOU to all that entered, and stay tuned for more fun and awesome golf giveaways here at GolfCrunch. We're just getting started in this overwhelmingly HUGE golf blogosphere, but we're nowhere near done yet. Lots of great stuff to come 🙂
Note: For more information on LOUDMOUTH, check out their official website.