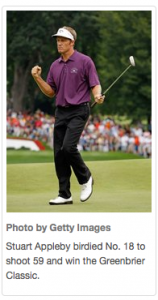 Last week, Jeff Rude of Golfweek did a post about Stuart Appleby's phenomenal 59.  In his "Hate To Be Rude" column, he wrote:
Considering the abyss he so impressively climbed out of, Appleby's closing 59 that clinched victory Sunday at the inaugural Greenbrier Classic ranks as one of the more remarkable feats I've seen in golf…

…Appleby's story is one of belief. One can take things for granted as he scales and stands on a mountain. Getting back there is a greater challenge. It requires remembering and forgetting all at the same time."
The emphasis of Rude's piece was on mental toughness.  Appleby was asked whether confidence or good shots come first.
"You need to practice with your confidence," he said. "You need to develop that on the range. You need to have that on the range, and then you carry that to the course and you make it valid from there. You don't try and find it on the golf course…You'll never find anything on a golf course."
*****
Ron Kroichick of the San Francisco Chronicle did a story on Monday about low scores on the PGA Tour.
"As the game's top players gather at Whistling Straits in Wisconsin for this week's PGA Championship, the talk of the summer – aside from Woods' uncommon struggles – is the flurry of crazy-low rounds."
And Tiger Woods was quoted saying, "It's easier to get to now – it's more attainable. …I think it goes to how much farther the golf ball is going and how much better the equipment and the players have become."
Kroichick also pointed out the profile of the super low scorer include:
Few elite players (beyond Stricker)
Few huge power hitters (beyond Holmes and McIlroy)
Few players known as big risk takers (e.g., Mickelson)
One thing's for sure, the "funky, links-style Pete Dye layout" of Whispering Straits won't be conducive for low scores.  In 2004, when Vijay Singh won there (he defeated Chris DiMarco and Justin Leonard in a three-hole aggregate score playoff) he made a birdie on the 10th hole – his only birdie of the day.
###