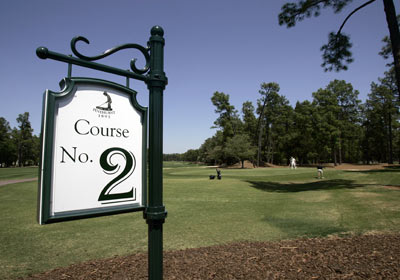 Looks like the design team of Masters Champion Ben Crenshaw and Bill Coore have been hired to do some restoration work on the classic Donald Ross design at Pinehurst No. 2. The work is being commissioned with the 2014 US Open and US Women's Open in mind. The two major events will hit No. 2 in consecutive weeks, four years from now. Time to make the changes, and in a few years, all will be ready for the big events!
The goal of the course changes will revolve around restoring the strategic and aesthetic feel that Donald Ross so aptly built into the original design. That being said, Coore commented on the task at hand:
'It is not our intent to radically change this golf course. We're trying to uncover it, not recover it.'
Sounds like Coore knows what he's talking about. Taking a dozer to a classic like Pinehurst No. 2 would be tragic. Revealing and slowly chipping away at some of the finer details would be clearly the way to go. Look for Coore and Crenshaw to restore sandy waste areas, widen some of the fairways, and bring some of the native wiregrass and natural bunker edges. I can already see it now. No. 2 is going to look great.
[Via: GolfWeek]