Anyone who has played Tiger Woods Golf knows how cool flyovers are.  You get a bird's eye view from tee to green, which is helpful for knowing what to expect and to decide which club to use.
When watching a tournament, flyovers provide more depth to the coverage as you get a better feel for what the Pros are up against. This week, Best Approach has created hole-by-hole course flyovers for the Quail Hollow Championship which you can find on the Quail Hollow website.  This is the first PGA TOUR event this year to feature CourseFlight™ 3D flyovers.
The feature is very cool.  For example, you may have read that Tiger Woods struggled on the par-3, 17th where he ended up double-bogeying.  He hit his tee shot into the water.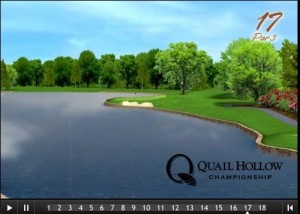 Using the Best Approach 3D flyover, you can really gain perspective.  To see for yourself, click here and then scroll down.
###