This week, the PGA of America announced that in order to maximize each spectator's experience for 2012 PGA Championship (6-12 August 2012) that is being held at the Kiawah Island Golf Resort near Charleston, S.C., the total number of spectators on the Ocean Course will be limited to approximately 27,000 spectators per day.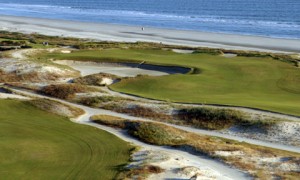 By comparison, the 91st PGA Championship at Hazeltine National Golf Club in 2009 had more than 44,000 total spectators on its most crowded day. A drastic reduction of tickets available to the general public will take place in 2012 to ensure the best experience for all in attendance.
So if you are interested in going, the recommendation is to visit www.pga2012.com to pre-register for a six-week sales window between Nov. 15 and Dec. 31, 2010.
The Ocean Course, which Golf Digest rates as "America's Toughest Course" and the "No. 4 Public Golf Course" in the country, was designed by Pete Dye.  Whistling Straits, home of this year's 92nd PGA Championship, was also designed by Dye.
###