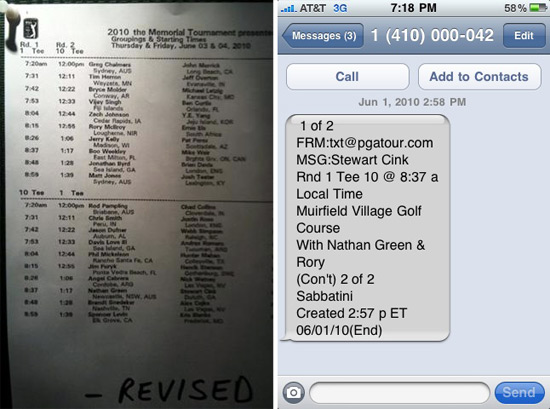 …and you thought the only one doing the text messaging was Tiger Woods! Ok, ok, that was bad. Sorry.
The other day while reading the GolfCrunch Twitter Feed (follow us @GolfCrunchLive) I happened to notice a few tweets from British Open Champion Stewart Cink (@StewartCink). He first posted an image of one of the tee sheets posted in the locker room. This is typical week-to-week stuff that players see. In fact, in my younger playing days myself I can remember this being the case. I played in quite a few amateur tournaments, and it was normal (and expected) to see tee times posted in the locker room and pro shop… and in the local paper (of course!). Nothing about this shocked me at all, but Stewart's following tweet certainly perked my interest.
Cink went on to note that the tour sends out text messages to each player, letting them know exactly when their tee time is. Talk about convenient! I trust that all tour players have a cell phone handy, as they are world travelers, are always on the road, and need some sort of communication device at all times to stay in touch with family. When the PGA Tour sends texts like this to players, it's not only convenient, but it's instant, and the tour can be assured players know INSTANTLY what their tee time is once the message goes out. Great stuff.