A senior at Notre Dame learned the hard way that verbalizing a score while playing a round is the same as writing it down.  It all started when Notre Dame senior, Annie Brophy, while playing in a NCAA Central Regional tournament, told people keeping track of scores every three holes to post on the leaderboard that she had five birdies, an eagle and a bogey through the first nine holes Saturday on the par-72 course.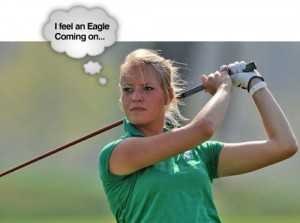 She later claimed she was just "goofing around."
Brophy needs to find a better way to stay loose and relaxed on the golf course if that was the case.  The NCAA disqualified her.
Brophy was "shocked" apparently because her actual scorecard was accurate (she hit 85 and 81 in the first two rounds) and she never intended to turn in a false score.
What she didn't grasp was the ripple effect of her actions.
According to Nancy Cross, a senior associate athletic director at Purdue and chair of NCAA Division I Women's Golf Committee, the problem was that because of the scores Brophy was verbalizing, three teams (Florida State, Oregon and Kent State) ended up waiting around to see if a playoff might be needed to determine which teams would advance to the finals. Only eight of the 24 teams advance.
Bad Brophy!
Lesson learned (hopefully).  Perhaps next time, if the urge to emote hits her, she'll just Tweet something silly to get it out of her system.  A Golfweek.com story includes Brophy's apology.
###
Note:  Original photo from Notre Dame via Golfweek.