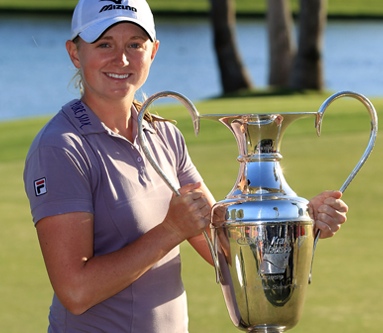 Fila Golf sponsored player Stacy Lewis won the Kraft Nabisco Championship – her first LPGA Tour victory and a "major" tournament nonetheless – competing in apparel from the sport brand's 2011 collection.
Per an announcement made by Fila , it was "Fila Golf's superior performance fabrics kept the 26-year-old cool, dry and comfortable at Mission Hills Country Club in Rancho Mirage, California."
The company pointed out that Ms. Lewis wore Fila Golf's Athena Polo and Calgary Bermuda Shorts while firing a final-round 69.
Crafted from Fila Golf's premium, 100-percent cotton and eco-friendly recycled polyester, many pieces boast wrinkle-resistant, moisture wicking, quick-drying and antimicrobial properties.
Her attire (www.filagolf.com) was truly tested during the victory leap into Poppie's Pond.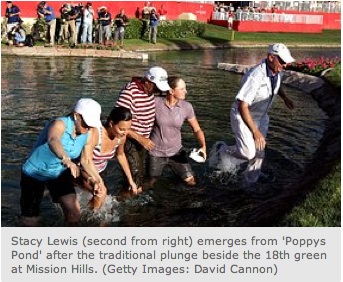 Note: For those that may scrunch up their nose at the thought of the plunge, according to a New York Times story, "The week before the tournament, the well water is drained from the pond and the gray concrete bottom is scrubbed. The water is replaced, and Poppie's Pond is ready for its television close-up."
###