Anyone who has spent time playing video games knows that a huge part is knowing how you are doing against others. Thanks to Internet-enabled console, the others could be anywhere on the Web. A company from Finland has taken that head-to-head scoring concept and applied it to the world of golf — REAL golf (like on a course with grass and divots and bumpy greens).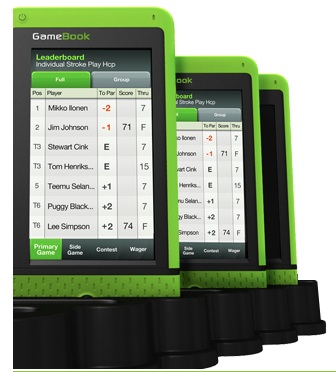 Their flagship product, also named GameBook, is a real-time scoring system and ground breaking social technology platform for golf, intended to make golf more social, fun and enjoyable for all. The GameBook product family includes the GameBook iPhone App, available from the Apple iTunes App Store.
The iPhone application includes an intuitive real-time score card, built-in traditional and fun game formats and well as statistics.
The GameBook Clubhouse is a free online community for golfers that takes the social and sharing aspects of the iPhone application to the next level. At the Clubhouse, you can follow and comment on your friends' games real-time from wherever you are, share photographs from the course as you play, store your scores, and compare your golf statistics with those of your friends.
Seems like the only thing missing is trash talking…
To demo/promote how it works GameBook teamed up with Audi Finland to launch of Audi Super Saturdays. The inaugural event was held 4 June. According to the company's press release, "it was the first time ever in the world of golf" that players (open to anyone) could compete against each other nationwide on any golf course. Audi is kicking down prizes too and not just for good results. For example, there is a prize for the "most number of bogies." The intent is to make everyone's Saturday game more enjoyable. To participate, a player must log-on and record their Saturday score on the GameBook iPhone application or register at the GameBook Clubhouse and enter the score manually in the player's Clubhouse profile.
The concept is innovative. It will be interesting to see how the pilot run in Finland goes. This could be coming to golf courses near you in the not so distant future.
###