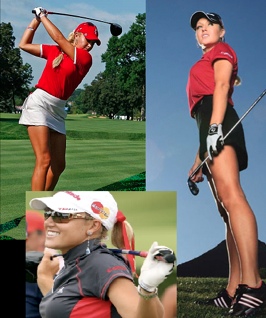 This week, the Caddy For A Cure organization announced an auction is being held to caddy for Natalie Gulbis at the LPGA's second major of the season:  Webman's LPGA Championship.
Caddy For A Cure offers a way for folks to have a PGA/LPGA experience "inside the ropes."   Opportunities can be found through its website (www.caddyforacure.com) which links to auctions. 100% of auction proceeds are donated to charity.
For the LPGA Championship, funds will be directed to the Fanconi Anemia Research Fund, the Wounded Warrior Project, the LPGA-USGA Girls Golf Program, the United Way Graduation is the Goal Fund as directed by tournament sponsor, Wegmans, and Natalie's charity, The Boys and Girls Club of Las Vegas.
In a written statement, Russ Holden, Caddy For A Cure founder said, "To be able to launch our program at the LPGA Championship is a perfect fit given the charitable history and heart of Wegmans. We think it's an especially exciting opportunity to be inside the ropes at a venue like Locust Hill which is deep in LPGA tournament history. The winning caddie will not only be shoulder to shoulder with Natalie, but will also be among the world's best women golfers competing in this Major tournament."
On the PGA side, examples of some of the auctions are being held include: Boo Weekley (May 26), Zach Johnson (July 7), Paul Casey (July 21), Lee Westwood (August 4) and a host of others.  See site for details.
###